Gondola & Prosseco Carnival Venice 2023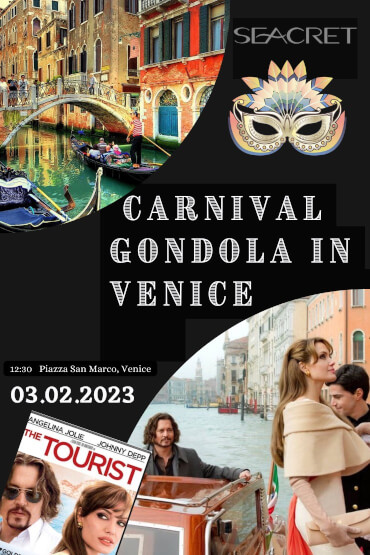 Gondola & Prosseco Carnival Venice 2023
Lifestyle Experience BY CLUB SEACRET
Feel like the famous actors BRAD PITT and Angelina Jolie in movie "THE TOURIST", filmed in Venice Italy in 2010
The largest group for gondola tour in VENICE, Club Seacret members from more than 15 countries worldwide!
Magic: the day of our tour is around the beggining of the annual Carnival Venice 2023.
* Date: 3rd of february 2023
* Private group: Seacret family only
* Duration: 30 min tour + 15 min special place for gondola group pictures
* Meeting point "Piazza San Marco" Venice
* Departure time: 12:30 daytime
(be in time : don't miss the SEACRET GROUP PICTURE before departure)
* Inclusions: 30 min Private Gondola Tour + 15 min Club Seacret Gondolas Picture + Italian Prosseco Drink (1glass for each person)
Privacy: This trip is exclusive to your group Club Seacret!
✅FLAGS!!!
Don't forget the flag of your country, we will have best pictures with all the flags on the RIALTO BRIDGE after the trip!
✅ Club Seacret Signs
Don't forget your Club Seacret Signs for pictures!
✅Carnaval Masks : optional!
if you want to feel the vibe of the carnaval, you can wear a venetian mask or to rent a carnaval dress, this year in 2023 the Venetian carnaval starts in the weekend we will be there!
* Descriptions:
Enjoy a CLUB SEACRET EXPERIENCE IN THE HEART OF VENICE!
More than 100 members in 20 private gondolas ride down the legendary Canal Grande.
YES!! Will be so much fun!
Maybe the most gondolas in a row ever in Venice, because of Club Seacret deals!
Share the sights of Venice with your friends from more than 10 countries, reunited in Venice, Italy!
Journey down the Grand Canal and some of the smaller canals of the city to see historic palaces and bridges from the water.
Pass the Gothic façades of palazzos at a gentle pace as your gondolier punts you through the historical center aboard the city's most traditional mode of transport.
Glide back to the starting point for the end of your amazing gondola ride.
• Walking to Rialto Bridge
After the Gondola experience, we walk together to RIALTO BRIDGE, for the best picture of Club Seacret Family (take with you the flags, carnival masks and ClubSeacret signs)
________________________________________________________
* Not included: TRANSPORTATION To Playbook Event in Padova
Here some tips: cost and timing details about how to get to Venice from Padova and back:
*28 min by train, cost around 5€ per person
*here the schedule recomanded , ticket paid by yourself:
PADOVA - VENICE BY TRAIN
* if you are already in Padova friday morning we will be a group in the Central Station going for Venice
* morning schedule:
10:06 from Padova to Venice 10:34
10:22 from Padova to Venice 10:50
be there before to manage with the tickets
VENICE - PADOVA BY TRAIN
17:10 Venice train Station "Santa Lucia Venezia" - To Padova
* Duration: 28 min
* arriving in Padova Train Station 17:38
(on time for the Event - first day )
__________________________________________________________
See you there!
Limited spots available: 20 gondolas ONLY!
Take your ticket now!