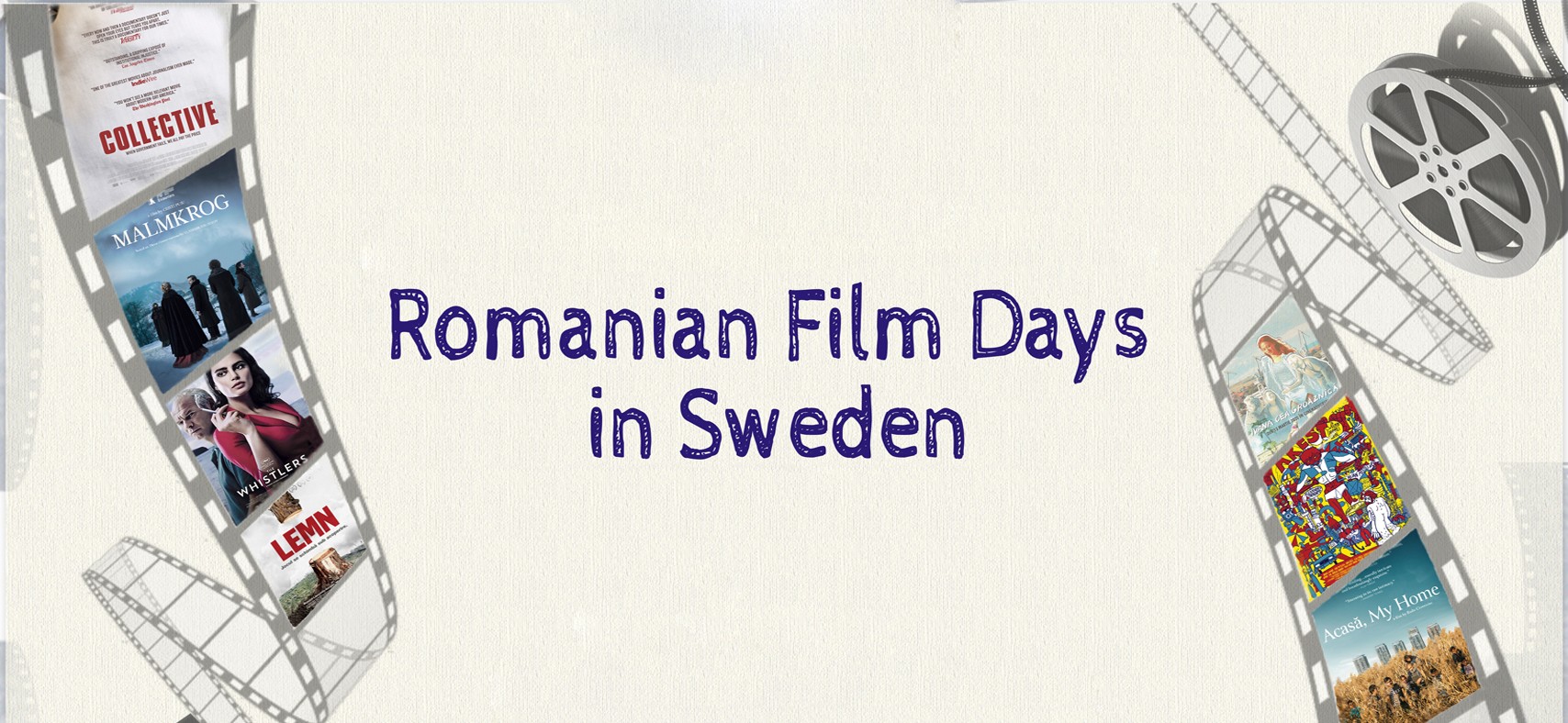 EN: Romanian Film Days in Sweden, online edition.
Details for booking free tickets
Seven of the most appreciated recent Romanian films, including the documentary "Collective" (2019), nominated for two Oscar Academy Awards, "Malmkrog" (2020), awarded at the Berlinale, and "The Whistlers" (2019), included in the competition of the Cannes Festival, can be seen by the Swedish public, between April 15-18, 2021, during the first online edition of the Romanian Film Days in Sweden. The festival's schedule also contains the films "Acasa, My Home" (directed by Radu Ciorniciuc), "Arrest" (directed by Andrei Cohn), "Ivana, The Terrible" (directed by Ivana Mladenović), "Wood" (directed by Monica Lăzurean-Gorgan, Ebba Sinzinger, Michaela Kirst).
This is an anniversary edition of the film festival, which is organized by the Romanian Cultural Institute in Stockholm, that was founded in 2006 and celebrates 15 years of existence in 2021.
The films from the Romanian film festival will be available free of charge, up to 200 accesses each, with prior reservation, on the Eventbook platform, exclusively from Sweden. Reservations on the digital platform can be made starting April 14, 2021. In order to watch a movie, the user must create an account on the digital platform Eventbook and then get a free ticket to the chosen screening. Each user is entitled to one ticket for each movie. The movie ticket is available in the user account on the Eventbook and the movie can only be seen on the day scheduled during the festival.
Steps for booking a ticket, up to 200 views:
1. Create an account on the Eventbook platform
2. Book a free ticket for your movie choice
3. Watch the movie on the day scheduled by the festival.
All the films that were selected for the festival by the film critic Ionuț Mareș, will be screened with English subtitles. The screenings are accompanied by interviews in English with the filmmakers, which can be watched during the festival on ICR Stockholm's online channels (Facebook page, YouTube channel, Instagram account).
For more details, please visit our website: Romanian Film Days in Sweden.
SE: Rumänska filmdagar i Sverige- online upplaga. Detaljer om gratis biljettbokning
Sju av de mest uppskattade rumänska filmerna från 2019 och framåt, bl. a dokumentären "Collective" (2019), med två Oscarsnomineringar, "Malmkrog" (2020), som fick regipriset på Filmfestivalen i Berlin och "Visslarna" (2019), som tävlade på Filmfestivalen i Cannes, kommer att vara tillgängliga för den svenska publiken mellan 15-18 april 2021, på den första onlineupplagan av Rumänska filmdagar i Sverige. På festivalen visas också "A𝗰𝗮𝘀𝗮, 𝗠𝘆 𝗛𝗼𝗺𝗲" (regi Radu Ciorniciuc), "Arrest" (regi Andrei Cohn), "Ivana The Terrible" (regi Ivana Mladenović), "Wood" (regi Monica Lăzurean-Gorgan, Michaela Kirst och Ebba Sinzinger). Årets upplaga av filmfestivalen anordnas med anledning av Rumänska kulturinstitutets 15-årsjubileum.
Onlineupplagan av Rumänska filmdagar kan bara ses i Sverige. Filmerna kommer att streamas gratis under festivalen, men upp till 200 åtkomster/film och med en förhandsbokning på plattformen www.eventbook.ro. Förhandsbokningen på plattformen öppnas den 14 april.
För att kunna se filmerna måste man skapa ett konto på den digitala plattformen www.eventbook.ro för att sedan få en gratis biljett till den filmvisning man väljer. Varje användare har rätt till en biljett per film. Filmbiljetten finns tillgänglig i användarkontot på Eventbook och filmen kan bara ses den dag som filmvisningen planeras under festivalen.
Gör så här för att boka plats/biljett (max. 200 visningar/film):
Skapa ett användarkonto på Eventbook -plattformen
Boka en gratis filmbiljett till den film du vill se
Kolla på film den dag filmvisningen planeras under festivalen
Samtliga filmer som valts ut av den rumänske filmkritikern Ionuț Mareș visas med engelsk text. Samtalen på engelska med filmernas regissörer kan ses under festivalen på Rumänska kulturinstitutets online kanaler: Facebook, youtube, Instagram
Läs mer på vår webbsida Zilele Filmului Românesc în Suedia (icr.ro)