Animație, Stop motion
Stop Motion
CURIOASA POVESTE A MĂTUȘII BINKS / THE CURIOUS TALE OF AUNT BINKS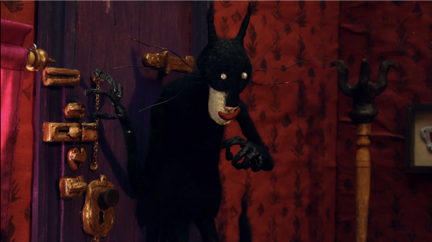 R: Gentle Giants
Canada, 2018, 8'

A young girl named Abby travels to visit her dear Aunt Binks, but finds herself in a peculiar situation when her Aunt Binks is nothing like she expected.

O fetiță pe nume Abby călătorește pentru a-și vizita mătușa Binks, dar la desinație se găsește într-o situație bizară, mătușa Binks fiind total diferită de cum se aștepta.
NOCTURNĂ / NOCTURNE / NACHTSTŰCK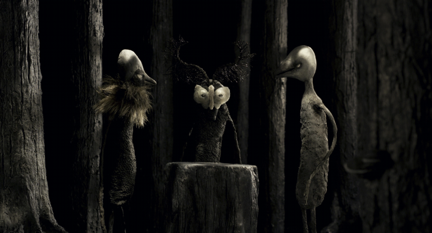 R: Anne Breymann
Germania, 2016, 5'

At night the forest creatures gather to gamble, putting their innermost at stake.

În timpul nopții, creaturile din pădure se întâlnesc pentru a juca jocuri de noroc, miza constând în cele mai lăuntrice lucruri.

Méliès d'Argent for best European short film - Court Métrange Fantastic Film Festival; Masters of Animation Award (Golden Anteater) - Lublin Film Festival; Excellent Achievement Award - Taichung International Animation Festival; Best Animated Short Film (Critics Choice Award) - Fantaspoa Fantastic Film Festival; Best Animated Short Film - Zaporizhzhia International Film Festival; Best Animated Short Film - Macabro International Horror Film Festival; CIAFF Award (Grand Prix) - China Independent Animation Film Forum; Winner National Competition - OderKurz-Filmspektakel; Visual Vanguard Award - Womanimation Festival; Best Art Direction - Multivision International Festival of Animation Arts; Best Character Design - Catacumba Film Festival
Animație
ZILE DE PISICĂ / CAT DAYS / NEKO NO HI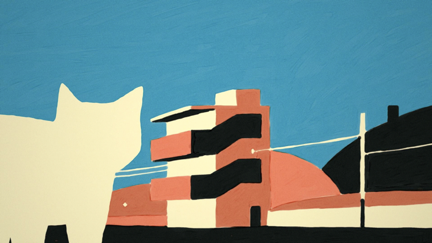 R: Jon Frickey
Germania, 2018, 11'

Little Jiro's got a fever, a cough and zero appetite for pancakes and syrup. 'Cat flu', says the doctor. Harmless, it's true, and rapid recovery is common, but something about the diagnosis is odd. Aren't cats supposed to be the only ones who get cat flu?

Micuțul Jiro are febră, tușește și nu are nicio poftă să mănânce clătite cu sirop. "Gripa pisicii", spune doctorul. Inofensivă, într-adevăr, dar totuși ceva este ciudat în legătură cu diagnosticul. Nu ar trebui ca pisicile să fie singurele care suferă de această gripă?

Premiera mondială - Berlinale - Berlin International Film Festival 2018; Top 3 animații finaliste pentru Cea mai bună animație - New York International Children's Film Festival 2018; Arte Short Film Award - Golden Horseman for Gender Equality - Dresden International Short Film Festival 2018; Grand Prix - ITFS Festival of Animated Film Stuttgart 2018; Cea mai bună animație - Animfilm Trebon 2018
ÎNTR-O CLIPITĂ / AUGENBLICKE / A BLINK O AN EYE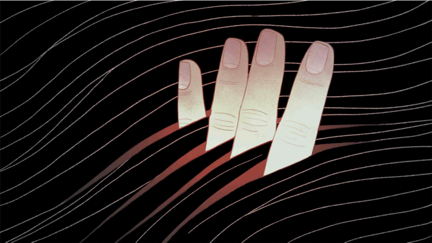 R: Kiana Naghshineh
Germania, 2018, 4'
Three perceptions of only one truth - hers, his and ours.
Trei viziuni asupra unui singur adevăr - a ei, a lui și a noastră.

Finala - BAFTA student film awards 2018; Cea mai bună tehnică de animație - Anima Mundi 2018; Competiția studențească - Annecy International Animated Film Festival 2018; Cea mai bună animație - British Animation Film Festival 2018; Competiția studențească - Ottawa International Animation Festival 2018; Competiția internațională - Krakow Film Festival 2018
SELFIES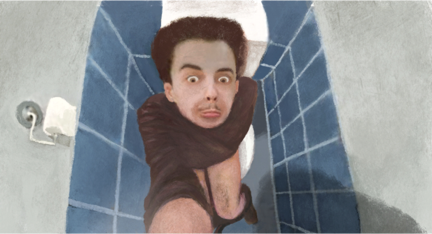 R: Claudius Gentinetta
Elveția, 2018, 4'

In a veritable firework display of digital self-portraits, hundreds of quaint, embarrassing and dreadfully disturbing selfies were arranged in a unique short film composition. Single photos, artistically reworked, consolidate to form a ghastly grin that outshines the abyss of human existence.

Într-un veritabil joc de artificii al selfie-urilor digitale, sute de imagini caraghioase, stânjenitoare și îngrozitor de tulburătoare sunt aranjate în compoziția unică a unui scurtmetraj. O multitudine de fotografii prelucrate artistic se consolidează pentru a crea rânjet groaznic ce eclipsează abisul existenței umane.

Premiera mondială - Locarno Film Festival 2018; Swiss Youth Award - Fantoche 16. Internationales Festival für Animationsfilm 2018; Diploma Juriului - KROK 25th International Animated Film Festival 2018; Premiul Juriului - Animatou International Animation Film Festival 2018; Cel mai bun film - Filmets 28th Badalona Film Festival 2018
INSULA / ISLAND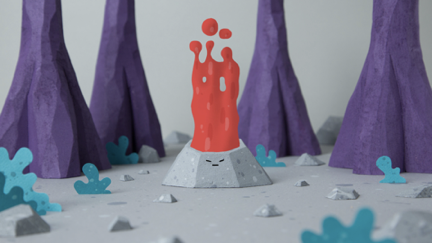 R: Max Mörtl, Robert Löbel
Germania, 2017, 2'

Pe o mică insulă, niște creaturi exotice dau nas în nas.
LOVITURĂ SUB CENTURĂ / LOW BLOW / GOLPE BAIXO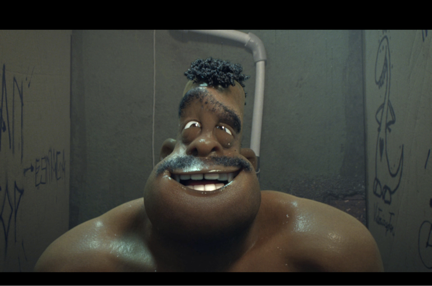 R: Gabriel Nóbrega, Márcio Nicolosi, Rodrigo Paulicchi
Brazilia, 2018, 4'

Un pugilist este pe cale să intre în ring, dar sfârșește într-un alt tip de luptă: una stânjenitoare.

Future Film Festival 2018; AnimaCeará - Festival Nordestino de Animação, Game e Web 2018
CORZI / KORDS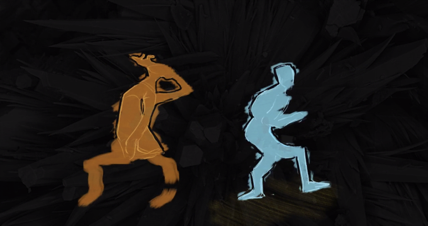 R: Tom Humphreys
Marea Britanie, 2018, 4'

O piesă de dans expresionistă despre un om care poate cânta la propriile vene ca la un instrument.
OUR WONDERFUL NATURE – THE COMMON CHAMELEON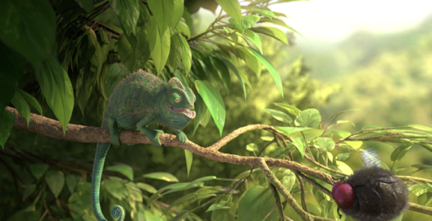 R: Tomer Eshed
Germania, 2016, 4'

"Obiceiurile de hrănire ale cameleonului comun cum nu s-au mai văzut."

Selecția oficială - Linoleum International Contemporary Animation and Media-Art Festival 2016; Sodak Motion Festival 2016; Premiul publicului - Kinemastik 2016; Premiul publicului - Très Court International Film Festival 2017; Premiul al doilea - Schwenninger Kurzfilmfestival 2017; Cea mai bună animație - Euganea Film Festival 2017, și multe multe altele (peste 200 de premii și selecții)
SIRENE ȘI RINOCERI / MERMAIDS AND RHINOS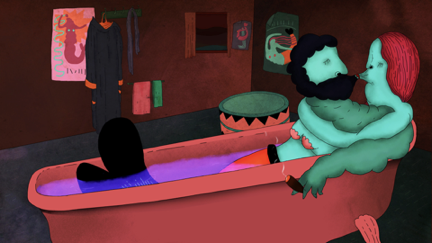 R: Viktoria Traub
Ungaria, 2017, 16'

Amintirile despre familia Tildei, în vârstă de opt ani, se trezesc la viață ca viziuni suprarealiste: bunica fostă sirenă circară, mama dornică de carnalitate și tatăl dispărut, ale cărui gelozie, furie și inimă frântă se întruchipează într-un rinocer. Acțiunile prezentului și ale trecutului sunt într-o continuă metamorfoză. Personajele își autodepășesc propriile granițe fizice și pe cele ale lumii înconjurătoare. Viața Tildei este plină de personaje bizare și grotești, înfometate de dragoste. Atmosfera ce înconjoară povestea este una plină de nostalgie, dorință, pasiune și tristețe.
EROI / HEROES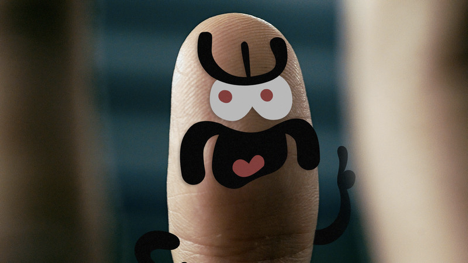 R: Juan Pablo Zaramella
Argentina, 2018, 3'
Gloria este în vârful degetelor.
NOAPTE DRAGĂ / SWEET NIGHT / NUIT CHÉRIE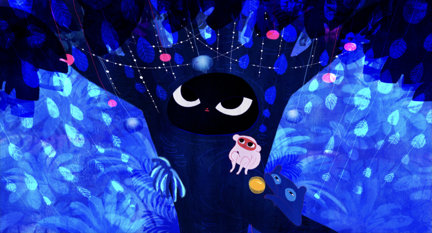 R: Lia Bertels
Belgia, 2018, 14'

În Himalaya, pe timpul iernii, un urs nu poate adormi. Se gândește mult prea mult și este demoralizat. Atunci când o maimuță albă îi sugerează să meargă împreună la mătușa ei pentru a mânca miere și a se înveseli, o frumoasă noapte de iarnă se desfășoară în fața lor.
SONDER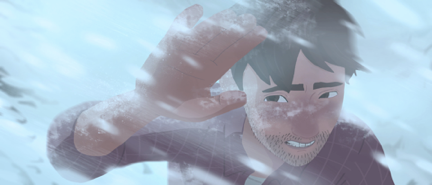 R: Neth Nom
SUA, 2018, 13

Ani întregi, Finn și Natalie și-au croit împreună același drum, dar când timpul lor petrecut împreună se sfârșește, Finn devine pierdut într-un tărâm misterios. Paralizat de frica de a merge înainte, riscă să se piardă complet. Trebuie să își găsească forța de a-și crea un nou drum cu ajutorul descoperirii de sine.

Best Animation - California Independent Film Festival 2018; Audience Choice: Best Animation - Sioux City International Film Festival 2018; Best Animation - California International Shorts Festival 2018
IEPURELE DE CRĂCIUN / THE CHRISTMAS RABBIT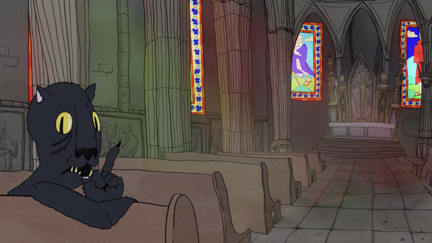 R: Christophe Lopez-Huici
Franța, 2018, 11'

În ajunul Crăciunului, o bătrână își găsește pisica ei cea dragă fără suflare. Toată ziua va încerca să îi găsească un loc de veci potrivit, dar nu va avea succes până când o opțiune la care nu s-a gândit se ivește.

Cea mai bună animație - South Film and Arts Academy Festival 2018; Cea mai bună animație - International Independent Film Awards 2018; Selecția oficială - Simply Shorts: Animation Salvation 2018
ARMURA IUBIRII / ARMOR DEL AMOR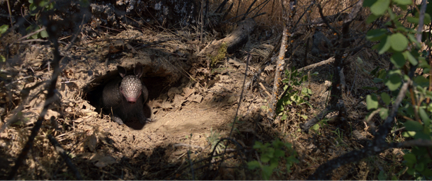 R: Kirk Kelley
SUA, 2018, 2

Un fel de documentar ce urmărește obiceiurile de împerechere ale Dasypus Novemcinctus (tatu/armadillo) pentru a releva dedesubturile sumbre ale reproducerii moderne dintre mamifere.
INIMĂ NEÎNFRICATĂ SAU (ZIUA ÎN CARE AM INSTAURAT PROTOCOLUL SOMNAMBULISMULUI) / THE BRAVE HEART OR (THE DAY WE ENABLED THE SLEEPWALKING PROTOCOL)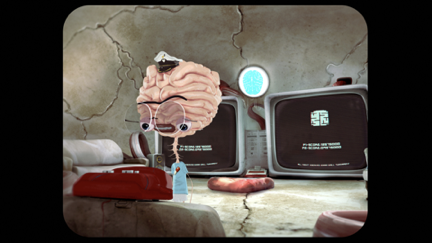 R: Luca Schenato, Sinem Vardarli
Marea Britanie, 2018, 10'

O comedie imprevizibilă și suprareală în care o inimă curajoasă se aventurează prin corpul uman pentru a rezolva problemele unei dimineți de mahmureală.

Selecția oficială - Animatricks Animation Festival 2018; Edinburgh International Film Festival 2018; Future Film Festival 2018; Animation Block Party 2018; ANIMAGE International Animation Festival of Pernambuco 2018; BALKANIMA European Animated Film Festival 2018; CARTON International Short Animation Film Festival 2018